Description
Introducing the 3rd generation 5400 lumen MF Tactical StingRay v.3. It is hard to believe it's been over 10 years since we produced the first gen StingRay, and man things have changed in a decade! But, LED technology has progressed, and now a single LED is capable of putting out a previously unimaginable 5400 lumens.
StingRay has returned to its roots and is once again built around a single LED emitter, now the newest generation, top-of-the-line Cree® XHP70.2 LED. Combining Cree®'s latest emitter with an extra deep mirror finished aluminum SMO reflector has allowed us to engineer this light to be by far the brightest, longest throw, narrowest beam light we have ever built
Without boring you with too much flashlight tech, up until now you needed multiple LEDs in order to make an extremely bright flashlight, but the physical size of a cluster of multiple LEDs necessarily produces a wide, flood type beam spread. StingRay v.3 was designed for users who require a more focused, long range beam that minimizes beam spread and throws the most concentrated center beam possible in a super high power LED flashlight.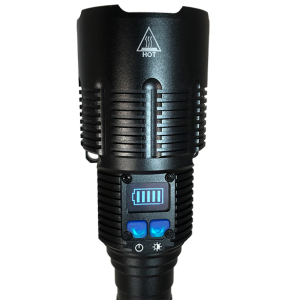 Advancements in technology have allowed us to reduce the weight of the 3rd gen StingRay by >45% while increasing brightness by 100% compared to the last generation.  StingRay now incorporates a high resolution OLED digital display screen that clearly and concisely gives you vital status information such as the currently selected mode (high, medium, low, extra low and strobe) and a real time digital battery power level gauge.
Plus, our new intuitive dual lighted buttons separate power control from mode selection by isolating those functions to separate buttons. Dual buttons are the solution for easy and flawless tactical operation and insures you always have total control of your light. In addition, when you need to quickly get to strobe mode (and when you need strobe, you generally need it NOW!), a quick double click of either button instantly accesses fast strobe mode, even when the flashlight is off.
Our new locking feature allows you to electronically "lock" your StingRay to prevent unintentional activation while it is being stowed or transported. No flashlight on the market operates this easily, efficiently and effectively.
MF Tactical StingRay v.3 is built from solid military grade T6061 aluminum alloy, waterproof to IPX-67 standards and has an extra thick hardened ultra-clear mineral glass lens with anti-reflective coating to insure unhindered light transmission and maximum durability. And, this professional grade tactical LED flashlight was designed and built in the USA to the highest quality standards to insure years of reliable service.
Stingray runs on two or three of our latest 3500mAh Ultra Capacity 10A rechargeable 18650 li-ion batteries (sold separately) and has a maximum run time of 3 hours per charge on high and 35 hours on extra low. You also have the option of removing the 3rd battery tube and running your Stingray on 2 batteries (with reduced runtime), which reduces your 12″ long flashlight to 9″ length if you need a more compact footprint.
NOTE:  MF Tactical StingRay v.3 requires 10A 18650 batteries.  Earlier 3.5A batteries are not compatible with this flashlight.  Select from the Battery/Charger Packages above to purchase 3 or 6 10A MF Tactical 18650 Ultra Capacity 3500mAh batteries for use in the StingRay.
MF Tactical is a US company based in New Jersey that designs and builds the highest quality tactical LED flashlights that outperform and outlast inferior models offered by the larger flashlight manufacturers and the low quality Chinese imports. Every MF Tactical flashlight comes with a one year warranty and the highest level of personalized customer service that keeps our customers coming back year after year.
StingRay v.3 Specs: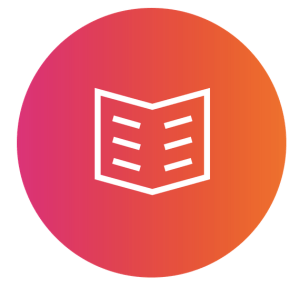 Brand:

MF

Tactical

®

Model:

StingRay v.3


Emitter Brand/Type:

Cree®

Emitter BIN:

XHP70.2

Color BIN:

White

Total Emitters:

1

Battery Requirements:

2 or 3 18650 protected li-ion rechargeable batteries w/10A discharge rate

Voltage Input:

7.4~12.6V

Switch Type:

Dual electronically actuated lighted switches

Switch Location:

Top/Side

Modes:

5 Modes Controlled by secondary dedicated mode button

Mode Memory:

Auto-setting mode memory returns to last mode when light is re-activated

Mode Arrangement:

High, Medium, Low, Extra Low and Direct Access Fast Strobe

Working Current:

6A, Digitally Regulated

Max Brightness in lumens:

5400 High; 3780 Med; 2160 Low; 540 Extra Low

Max. run time per charge on 3x 3500mAh batteries:

3.o hrs High; 5 hrs Med; 10 hrs Low; 35 hrs Extra Low; 4 hrs strobe

Max. run time per charge on 2x 3500mAh batteries:

2.o hrs High; 3.4 hrs Med; 6.7 hrs Low; 23.4 hrs Extra Low; 2.7 hrs strobe

Range:

300+ yards

Water Resistance Standard:

IPX-66. Protected against high pressure water stream from any angle.

Materials:

T6061 Aircraft Aluminum Alloy

Finish:

HA III military Grade Hard Anodized

Lens:

Extra thick hardened ultra-clear mineral glass with anti-reflective coating

Reflector:

Smooth Aluminum/SMO Reflector

Weight (w/o batteries):

13.1 oz

Length:

12" with 3rd battery tube; 9″ without

Diameter at head:

2.15"

Diameter at body:

1.0″