Description
Introducing the all new for 2021 USB rechargeable MF Tactical Pro Tango L3 with 2000 max lumens. Earlier versions of the Pro Tango Series have been favorites of our devoted law enforcement fans for many years, and this year it was time for a thorough upgrade of the Pro Tango's features and capabilities. Pro Tango L3 is our first professional grade flashlight to get a power boost to 5 Amps, and with the new high power Cree® XM-L3 emitter, we have for the first time been able to achieve an astounding 2000 max lumens on a single emitter flashlight that runs on a single 18650 battery. Improvements in efficiency have now made it possible for us to achieve a run time of 4 hours on high mode using just one 10A Ultra Capacity 3500mAh battery.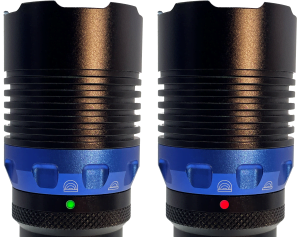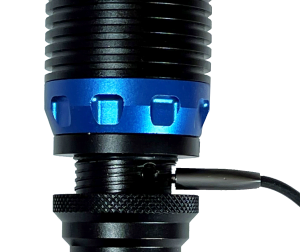 In addition to being the most intelligently designed and highest quality flashlight built in the USA, Pro Tango has always been the preferred EDC flashlight of flashlight freaks due to its unique mode selector dial. Just twist the high tactile feedback dial to the mode you want (high, med, low, extra low or fast strobe), and the light goes to and stays in that mode until you change it. MF Tactical knows that when you need a mode, you need it NOW, and with Pro Tango you always know what mode you are in. By separating mode control from the power button, you never have to spend time cycling through modes. You can either use the dial to click to your desired mode before powering on the flashlight, or easily change modes on the fly with the ergonomic dial to adjust mode in real time. Combined with a thumb friendly recessed tail switch with momentary-on functionality, the Pro Tango L3 gives you an incredibly bright, lightweight and compact flashlight with the most intuitive and user friendly operation you will find on any flashlight anywhere in the world.
And the best news – Pro Tango is now USB rechargeable! Simply unscrew the cover to the weatherproof USB-C charge port compartment located just below the mode dial, and you can charge your Pro Tango using its built-in intelligent charge circuit and the included USB-C to USB-A cable without having to take the battery out of the flashlight. As it's impossible for Pro Tango to overcharge its battery, you can plug in at the end of every shift and your Pro Tango will have a full charge next time you grab it. If you prefer to have extra batteries fully charged for even longer run time without having to stop to recharge, Pro Tango's battery can still be removed in seconds and charged in any of our optional external USB, AC and/or DC powered chargers. For times when 4 hours of run time is not enough, you can charge additional batteries externally so that you can be using the flashlight with one battery while charging another battery externally at the same time. By being able to "hot swap" batteries as needed, you'll never run out of power. In addition to its capabilities as a tactical self defense tool, the Pro Tango L3's potent crenulated attack bezel also serves as a glass breaker in the event of an emergency.
While the words and photos on this page can give you a good idea of the Pro Tango's design, features and capabilities, nothing can match the feeling you'll get the first time you hold an MF Tactical Pro Tango L3 in your hand. This is truly a stunning, well engineered essential tool that we know you will trust and rely upon as your everyday carry tactical light. When you get a Pro Tango L3, not only are you getting a tactical flashlight that exceeds the highest of design and build quality standards, but you are getting our finest pro grade tool that comes standard with our one year warranty and legendary customer service.
Pro Tango L3 runs on a single 10a 18650 rechargeable protected li-ion battery (Do NOT use CR-123A's or unprotected batteries). While the price shown for the flashlight is without batteries, just use the "Battery Options" and "Charger Options" menus when you put the light in your cart, and you can choose from a variety of options with 1 or 2 top quality MF Tactical Extended or Ultra Capacity 10A 18650 rechargeable li-ion batteries and an external USB smart charger for charging extra batteries. We also stock a variety of essential accessories, such as bicycle and weapon mounts, a remote pressure switch, red and green color filters, a custom ballistic nylon holster and a high power 3A, 5V AC adapter for charging in a wall outlet or a 12V DC cigarette lighter adapter for charging in a vehicle.
NOTE:  To utilize the full performance capabilities of the Pro Tango L3, this flashlight requires 10A 18650 batteries.  Earlier 3.5A batteries are not compatible with this flashlight.  Select from the Battery/Charger Packages above to purchase 1 or 2 10A MF Tactical 18650 Extended Capacity 2600mAh or Ultra Capacity 3500mAh batteries for use in the Pro Tango L3.
SMO Reflector Options: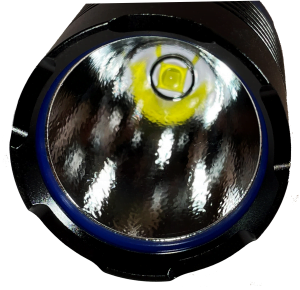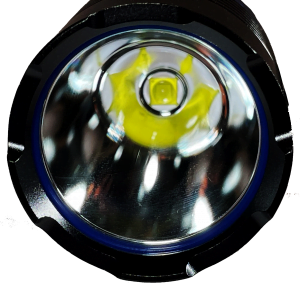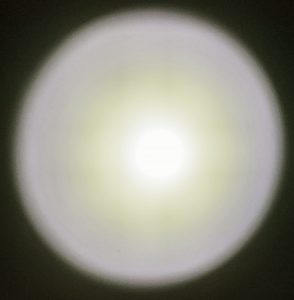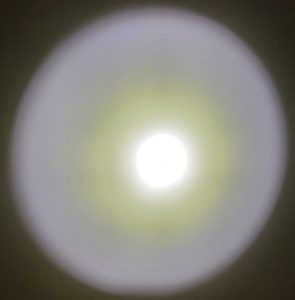 If you would like to upgrade your Pro Tango L3 to maximize the beam's throw, we offer an optional reflector upgrade to a highly polished SMO smooth reflector. The standard OP or "orange peel" reflector has a textured surface that acts to disburse the center beam over a wider field, which makes the light have a bias towards flood or spill. As some users prefer their light to have a bias towards throw, which concentrates more of the beam towards the center, sending more of the light farther down field, we offer the option of upgrading your light's OP reflector to an SMO reflector. Think of the difference as the choice of loading your home's light fixture with a spot light bulb vs. a flood light bulb. If you would want to maximize your light's throw potential through the use of an SMO reflector, just check the option box when ordering and either upgrade your standard OP reflector to the SMO reflector or include both OP and SMO reflectors.
Here are the specs for the Pro Tango L3:
Brand:

MF

Tactical

®
Model:
Pro Tango L3
Emitter Brand/Type:
Cree®
Emitter BIN:
XM-L3
Color BIN:
White
Total Emitters:
1
Battery Configurations:
Powered by one 18650 Protected battery ONLY (sold separately) with minimum 10A discharge rate. Do NOT use CR123A or unprotected batteries.
Voltage Input:
3.6~4.2V
Switch Type:
Heavy Duty Recessed Tactic Switch with Momentary On
Switch Location:
Tail-cap
Modes:
5 Modes Controlled by Mode Control Dial on light head
Mode Arrangement:
High, Medium. Low, Extra Low and Fast Strobe
Operating Current:
5A
Brightness:
2000 lumens on high; 1400 lumens on medium; 800 lumens on low and 200 lumens on extra low.
Approx. Run Time per Charge:
4 hrs on high; 6 hrs on medium; 10 hrs on low and 35 hrs on extra low. (with 3500 mAh Ultra Capacity battery)
Range:
250+ yards
Waterproof Standard:
IPX-68.  Waterproof to depth of 1 meter for 1 hour.
Materials:
T6061 Aircraft Aluminum Alloy
Finish:
HA III military Grade Hard Anodized
Lens:
Hardened ultra-clear mineral glass with anti-reflective coating.
Reflector:
Aluminum Textured/OP Reflector
Carrying Strap/Pocket Clip:
Includes adjustable/detachable nylon wrist strap and aluminum bi-directional pocket clip
Weight (w/o battery):
6.5 oz
Length:
6-7/16"
Diameter at head:
1-5/8"
Diameter at body:
1.0″
Diameter at mounting pt:
15/16"
Optional Tactical Accessories: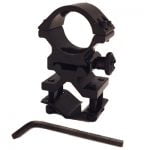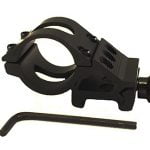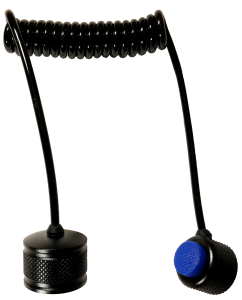 To order, use "Add Firearm Mount" or "Add Remote Pressure Switch" pull-down menu above.