Description
Introducing the new standard in ultra-bright high power tactical LED flashlights: the all new MF Tactical PowerStar v.4. It is not often that we introduce a new PowerStar, and the all new 4th gen model makes the biggest leap forward in MF Tactical's history. Breakthroughs in LED development have yielded the most powerful ever Cree® XHP70.2 LED emitter, and we use three of them in the new PowerStar. Combine these awesome emitters with new battery technology known as High Discharge LiNiMnCo02 20A batteries, and the result is a truly breathtaking 9600 max lumen flashlight that is twice as bright and 27% lighter than its predecessor without giving up any of the legendary fit, finish and build quality that makes PowerStar the best flashlight available anywhere. The new and more powerful PowerStar is now more than ever the envy and desire of every Flashlight Freak who wants the baddest and brightest flashlight possible along with the knowledge that their ultimate flashlight is built to exacting standards from the finest materials in the world.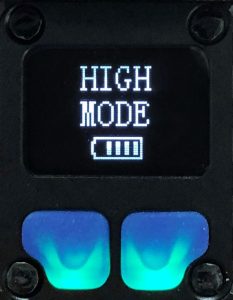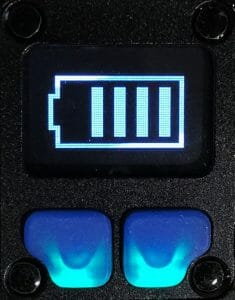 Our advanced OLED digital display screen crisply and beautifully displays your selected mode and shows a battery power gauge in real time so you always know your power level. New dual backlit buttons separate power control from mode selection, making PowerStar simple and intuitive to use. Press the left button to turn on/off and press the right button to change mode – it's that simple. PowerStar's exclusive direct access strobe mode is now accessed with a quick double click of either button, even when the flashlight is off. Plus, our new locking feature lets you electronically "lock" your PowerStar, which prevents unintentional activation while being stowed or transported, preventing accidental battery drain.
PowerStar is now a 6 mode flashlight, with high, medium, low, extra low, our new candle mode (which gives you 150 lumens of continuous light for up to 100 hours) plus a blinding fast strobe. PowerStar gives you a full 9600 lumens on high mode for about 90 minutes, and you can get up to 6 hrs of a respectable 2400 lumens by running on low mode. Mode memory remembers what mode you were using when you turn it off and automatically returns to that mode next time you turn it on, so you never have to "hunt" for the mode you want. A built-in tripod mount lets you use any standard tripod to mount your PowerStar for hands-free operation.
In addition to its incredibly solid, high quality feel, PowerStar is beautifully finished with the highest Level HA III military grade hard anodization process that resists wear and scratching so that it will look as good as it performs for many, many years to come. PowerStar's blacked out aluminum "attack" bezel gives you a hard, crenulated leading edge that can be used to break glass and provide you with a tactical weapon for your close-in self defense needs (but please be careful out there, Rambo).  PowerStar meets IPX-66 standards for waterproofing, so its safe to use in the rain and in wet conditions. For carrying your PowerStar with ease, we also offer as optional accessories a comfortable camera style shoulder strap with anti-kinking swivel mounts and a ballistic nylon belt holster.
PowerStar runs on either two or three 3.7v, 20A 18650 High Discharge (HD) rechargeable batteries. While the price shown above for the flashlight is without batteries, just use the "Select Battery/Charger Package" option menu when you put this light in your cart, and you can choose a package with one or two sets (3 batteries per set) of HD batteries and an AC/DC/USB intelligent charger with LCD screen.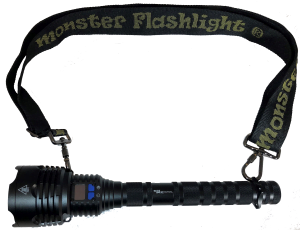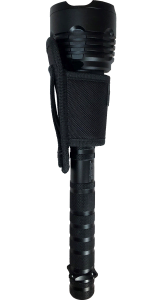 Packaged with every PowerStar is a spare extra toughened, extra thick ultra-clear mineral glass with anti-reflective coating lens (just in case of a mishap with your original lens). If you should wish to reduce your PowerStar's length, you can remove the 3rd battery extension tube and run the light on only 2 batteries (with 33% lower run time), but for maximum performance, leave the extra tube in place, install 3 batteries and be prepared to light up the night.
The Cree® brand LED emitters in PowerStar are rated by their manufacturer to last 100,000 hours. In addition, every MF Tactical flashlight comes with a one year warranty against manufacturing defects. In the unlikely event that your light should fail during that time, it will be repaired or replaced at our cost so long as it is not misused or abused.
As many of our earlier customers already know, MF Tactical was established by an admitted flashlight freak (flashlitious freakopotimus) when he became an EMT and volunteered for his local squad. MF Tactical was built around the idea that an American company could design and build extremely high quality flashlights and offer its customers the very best in state-of-the-art LED technology with an emphasis on ultra high performance and the best engineered components. We build these amazing flashlights in New Jersey and sell them to professionals, enthusiasts and everyday flashlight users at the best prices possible. Combine that with lightning fast shipping and caring and knowledgeable customer service, and you can see what MF Tactical is all about.
NOTE:  PowerStar v.4 requires 20A 18650 High Discharge (HD) batteries. Earlier 3.5A or 10A batteries are not compatible with this flashlight. Select from the Battery/Charger Packages above to purchase 3 or 6 20A MF Tactical 18650 3000mAh HD batteries for use in the PowerStar v.4.
Here are the specs:
Brand:

MF

Tactical

Model:
PowerStar v.4
Emitter Brand/Type:
Cree®
Emitter BIN:
XHP70.2
Number of Emitters
3
Color BIN:
Bright White
Material:
6061-T6 Aircraft Aluminum Alloy
Finish:
HA III Military grade hard anodized
Battery Configurations:
2x or 3x 20A 18650 High Discharge rechargeable batteries with protection circuit (sold separately)
Voltage Input:
7.4v – 12.6v
Switch Type:
Dual electronically actuated lighted switches
Switch Location:
Top/Side
Modes:
6
Mode Arrangement:
High, Medium, Low, Extra Low, Candle Mode and Direct Access Fast Strobe.
Maximum Operating Current:
12.5 Amps
Max Run Time per Charge with 3x 3000mAh High Discharge 20A 18650 batteries: 
Approx 1.5 hrs on high; 3 hrs on medium; 6 hrs on low; 15 hrs on extra low and 100 hrs on candle mode
Max Run Time per Charge with 2x 3000mAh High Discharge 20A 18650 batteries: 
Approx 1.0 hr on high; 2 hrs on medium; 4 hrs on low; 10 hrs on extra low and 67 hrs on candle mode
Max Lumens per mode:
9600 lms on high or strobe; 4800 lms on medium; 2400 lms on low; 1000 lms on extra low and 150 lms candle mode
Maximum Range:
250+ yards
Water Resistance Standard:
IPX-66. Protected against high pressure water stream from any angle
Lens:
Hardened and Extra-Thick Ultra-Clear Mineral Glass with Anti-Reflective Coating
Reflector:
Aluminum Smooth Reflective Surface (SMO)
Weight (w/o batteries):
1 lb. 3.3 oz/545 grams
Length (with 3rd battery tube):
12.125″ (308.05mm)
Length (without 3rd battery tube):
9.125″ (228.6mm)
Diameter at head:
2.69″ (68.25mm)
Handle Diameter:
1.0″ (25.4mm)