Description
MF Tactical Victor U2 is our bright single 18650 battery/single mode flashlight and the successor to the much loved and retired Victor T6. Victor Series is a high performance single mode (high only) tactical flashlight made from heavy gauge aircraft aluminum and finished with the hardest, most durable finish available – level III military grade anodization. This solid work of art, with its prominent brushed aluminum crenelated bezel, is built using Cree's ultra bright and ultra white XM-L2-U2 high efficiency LED emitter, which is rated at 1100 max lumens.
Our evolutionary redesign of the pocket sized Victor Series includes the addition of the reversal of the pocket clip to enable you to keep the head of the flashlight safely protected in your pocket, and we also increased the security of the pocket clip design by fully attaching it 360 degrees to the body tube to prevent any unintended removal of the clip.  For users who prefer their Victor without a pocket clip, it is still removable – simply unscrew the retaining ring, and the clip can be easily and neatly removed until needed.  Put it all together, and the Victor U2 represents MF Tactical's mission to put high quality, high performance tactical lights in the hands of our users for a lot less than the king's ransom charged by our better known competitors.
Our law enforcement users have told us that what they really need as a feature in a dedicated tactical flashlight is a "momentary-on function."  Thus, when you lightly press the tail switch button on the Victor U2, you activate this impressive LED flashlight's extraordinarily bright white beam.  Let go of the button, and it immediately turns off.  For clearing a building room by room or just briefly lighting up a suspect or his car, the Victor U2's momentary-on function gives you the flexibility and control to smoothly and expertly execute your training and tactics. Need the light to come on and stay on, simply press the button until it clicks, and then it operates like a standard on/off switch.  You are in complete control with your Victor U2.
One of the thoughtful design elements of the MF Tactical Victor Series is our beautiful brushed aluminum crenelated Attack Bezel, which has become a design hallmark of this highly functional and extremely tough tactical flashlight.  Not only does this rich feature give the Victor Series its distinctive and high quality look and feel, but having a chunk of solid honed aluminum on the business end of your light also serves to give the user one serious last line of defense (which we hope you will never need to use).   In addition to its use as a defensive tool, the Victor Series' potent attack bezel also protects the light from damage in the event of a drop and also equips you with a glass breaker in the event of an emergency.  All in all, what you see on this page is an incredibly well engineered and beautiful tool that you will never want to be without as your everyday carry tactical light.
The Victor U2's powerful and efficient Cree XML-U2 LED emitter allows the Victor U2 to run whiter, brighter and cooler than any of its competitors running on older LED technology (compare this to the decade old LED's being used in MagLites).  The Cree U2 is the only choice for building a tactical flashlight that outpowers, outshines and costs less than offerings from Surefire, Pelican, Fenix and the rest of the higher (over-) priced competition.  With a max output rating of 1100 lumens and a price tag under $80.00, the Victor U2 may just be the best, highest quality tactical flashlight available to members of law enforcement.  With simplicity in mind, the Victor Series was designed as a single mode light that operates exclusively in high mode, either locked on or through use of the momentary on feature.  This eliminates any confusion or inadvertant mode changing when operating under stress or on the move. For users looking for an advanced, high quality, multi-mode U2 light, the Victor U2's big cousin, the MF Tactical Pro Tango U2, offers all of the features of the Victor Series plus more in a five mode Cree U2 powered tactical flashlight.
THIS IS AN INCREDIBLY BRIGHT FLASHLIGHT IN A LIGHT/COMPACT SUB-6″ BODY.  We have researched, tested and compared hundreds of LED flashlights over the years, so we know what you need to buy if you want the brightest, highest quality, highest power efficiency and most useful flashlight in the smallest package at the lowest cost.  Compared to the now ancient looking MagLite LED that took 3 D-cell batteries, this compact flashlight made of anodized aircraft aluminum puts out many times MORE light as the brightest MagLite, which also weighs a ton.
Victor U2 runs on a single high voltage 18650 rechargeable protected li-ion battery (Do NOT use CR-123A's or unprotected batteries). While the price shown for the flashlight is without batteries, just use the menus marked "Battery Options" and "Charger Options" when you put this light in your cart, and you can choose from a variety of options with 1 or 2 of our top quality Extended or Ultra Capacity 18650 rechargeable li-ion batteries and your choice of USB smart charger with AC and DC adapter options, all offered with no additional shipping. We also stock a variety of accessories, such as mounting hardware, remote pressure switches, red and green color filters and a custom ballistic nylon holster.
SMO Reflector Options: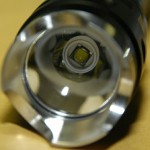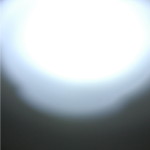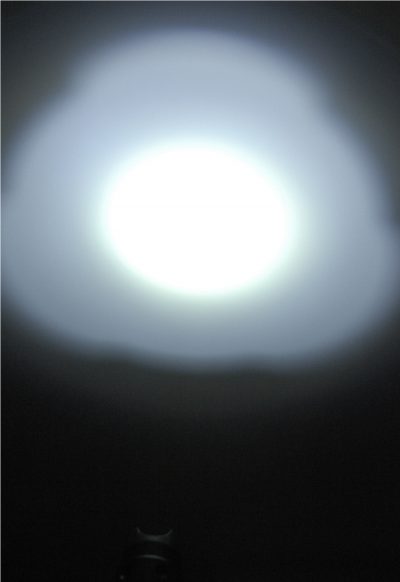 If you would like to upgrade your Victor U2 to maximize the throw distance of this magnificent emitter, we offer the option to upgrade your reflector to a highly polished SMO smooth reflector. The standard OP or "orange peel" reflector has a textured surface that acts to evenly disburse the light over a wider field, which makes the light have a bias towards flood or spill. As some users prefer their light to have a bias towards throw, which concentrates more of the beam towards the center, sending more of the light farther down field, we offer the option of upgrading your light's reflector to an SMO reflector.  Think of the difference as the choice of loading your home's light fixture with a spot light bulb vs. a flood light bulb. If you would want to maximize your light's throw potential through the use of an SMO reflector, just check the option box when ordering and either upgrade your standard OP reflector to the SMO reflector or include both OP and SMO reflectors.
Replacement Flush Black Bezel Option: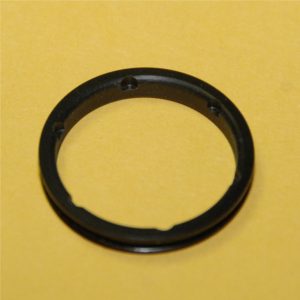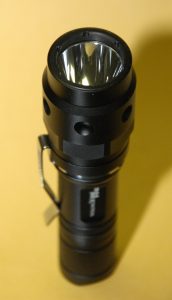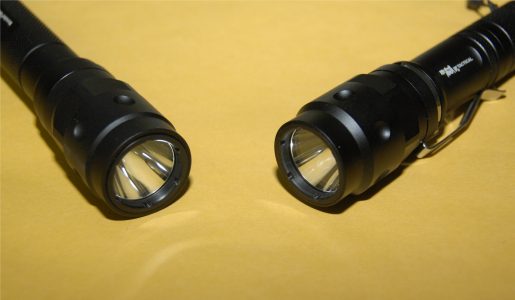 This optional Replacement Flush Black Bezel, which fits all MF Tactical Victor Series models, was designed as a substitute for the brushed aluminum crenelated attack bezel that is standard on every Victor Series flashlight.  Our Victor Series customers have told us that there can be times when the standard crenelated attack bezel is just a bit too aggressive or when keeping the light in a pocket can tear the pocket's fabric.  Also, for tactical uses a black bezel reflects back less light and is therefore far more stealthy.  So, for these reasons, we have custom manufactured and now offer this optional replacement flush bezel that allows for temporary or permanent replacement of the standard aluminum attack bezel.
To add the Replacement Flush Black Bezel to your Victor Series flashlight order, use the "Add Replacement Flush Black Bezel" check box at the top of this page before adding flashlight to your cart.  To order this part separately, just CLICK HERE.
Here are the specs for the Victor U2:
| | |
| --- | --- |
| Emitter Brand/Type: | Cree |
| Emitter BIN: | XM-L2-U2 |
| Color BIN: | White |
| Total Emitters: | 1 |
| Battery Configurations: | Powered by 1 x 18650 Protected battery. ONLY (sold separately). Do NOT use CR123A or unprotected batteries. |
| Voltage Input: | 3.7~4.0V |
| Switch Type: | Recessed Tactic Click with Momentary On |
| Switch Location: | Tail Cap |
| Modes: | 1 |
| Mode Arrangement: | High Only |
| Operating Current: | 1.7 amps Output, Digitally Regulated |
| Brightness: | LED Emitter rated by Cree at 1,100 lumens max |
| Max Runtime: | High 2.6 hrs (approx.) with 3400mAh Ultra Capacity battery |
| Range: | 130+ yards |
| Lens: | Hardened Ultra-Clear Mineral Glass Lens w/anti-reflective coating |
| Reflector: | Aluminum Textured/OP Reflector |
| Materials: | T6061 Aircraft Aluminum Alloy |
| Finish: | HA III Military Grade Hard Anodized |
| Waterproof Standard: | IPX-7.  Protected against water penetration at depth up to 1 meter. |
| Carrying Strap: | Nylon Wrist Strap Included |
| Weight (w/o battery): | 5.7 oz |
| Length: | 5.9" |
| Tail Diameter: | 1.0" |
| Head Diameter: | 1.4"; 1.25″ at bezel |
| Diameter at Mounting Pt: | 0.9" |
Optional Tactical Accessories: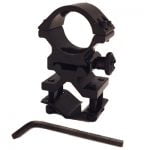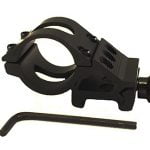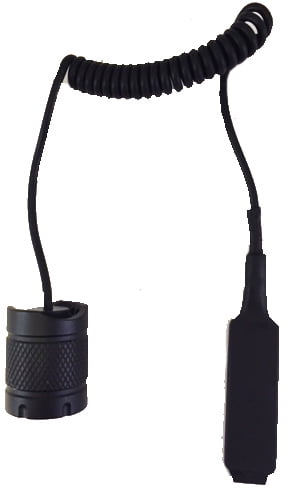 To order, use "Add Firearm Mount" or "Add Remote Pressure Switch" pull-down menu above.