Description
Is it possible to improve upon perfection?  We think so. We are proud to offer the 1100 lumen max MF Tactical Victor U2 EX.  The EX stands for Extended, and our Victor U2 EX extends the capabilities of the Victor T6 in two important ways:
Brighter LED Emitter:  The Victor U2 EX is built with the newer, brighter and more efficient 1100 lumen max XM-L2-U2 LED emitter by Cree®; and
Double the Run Time:  The Victor U2 EX uses two 18650 batteries configured to double the run-time on the EX (compared to the Victor T6) to up to an incredible 4 hours (using 3500mAh Ultra Capacity batteries).  This feature is intended to cure battery life anxiety for long overnight shifts that demand a flashlight that will run all night on a single charge.
Specifically designed to meet the needs of MF Tactical's law enforcement customers, the Victor Series includes an improved and more sensitive version of our tail mounted switch with "momentary-on" feature. When you lightly press and hold the button on the Victor U2 EX, you activate this impressive LED flashlight's extraordinarily bright white beam.  Let go of the button, and it immediately turns off.  For clearing a building room by room or just lighting up a suspect or his car, the MF Tactical Victor U2 EX's momentary-on feature gives you the flexibility and control to smoothly and expertly execute your training and tactics.  Need the light to come on and stay on, just press the button until it clicks, and it operates like a standard on/off switch – you are in complete control with your Victor U2 EX.
The MF Tactical Victor Series marks the return (by popular demand) of our beautiful brushed aluminum crenelated Attack Bezel that has become a design hallmark of this highly functional and extremely tough tactical flashlight.  Not only does this rich feature give the Victor Series its distinctive and high quality look and feel, but having a chunk of solid honed aluminum on the business end of your tactical light also serves to give the user one serious last line of defense (which we hope you will never need to use).  In addition to its use as a defensive tool, the Victor Series' potent attack bezel also protects the light from damage in the event of a drop and provides you with a glass breaker tool in an emergency.  All in all, what you see on this page is a well engineered and beautiful tool that you will never want to be without as your everyday carry tactical light.
Flashlight freaks like us want the most current and most powerful LED's in their tactical lights.  That is why we have built this flashlight around the Cree XM-L2-U2 LED emitter, the successor to Cree's T6.  We have no idea why a company like Mag Light continues to use technology that is over a decade old when the emitter chips just keep getting better and better.  What we do know is that because MF Tactical is a nimble and lean US manufacturer, we are able to stay flexible and open to design upgrades while we keep our eyes open for the next big LED advancement, while our larger competitors seemingly stay wedded to older technology long after it has become obsolete.  As a result, we are able to constantly improve our products and continually innovate as technology progresses. The Victor U2 EX is just our latest example of what you can achieve by always seeking improvements and never resting on your laurels.
The proof, as they say, is in the pudding, and the Victor Series demonstrates precisely what results can be achieved by simply being motivated to do everything better and more efficiently than the other guy. Utilizing an emitter with a max output rating of 1100 lumens and being priced at about half of that charged by bigger manufacturers offering less features, the Victor U2 EX represents the new standard in hand held tactical lighting designed for law enforcement.  While we won't knock the quality of our competitors, once you hold a MF Tactical in your hand, you will know that we make a light that exceeds the highest of build quality standards.  And we stand behind our quality with our one year limited warranty.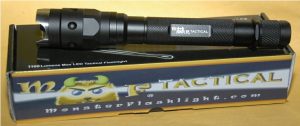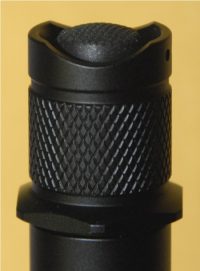 Our newly redesigned tail cap/switch assembly, which is now used on all Pro Tango and Victor Series lights, has an easier to operate switch.  Plus, the addition of two indents at the bottom of the tail cap now allow for easier one handed operation, as your thumb now has easier access to the recessed button.  Recessing the button into the tail cap provides the added benefit of permitting the light to tail stand, which enables you to use the light as a table lamp by allowing the beam to reflect off the ceiling and light up a room.
Victor U2 EX runs on two high voltage 18650 rechargeable protected li-ion batteries (Do NOT use CR-123A's or unprotected batteries). While the price shown for the flashlight is without batteries, just use the menus marked "Battery Options" and "Charger Options" when you put this light in your cart, and you can choose from a variety of options with 2 or 4 of our top quality Extended or Ultra Capacity 18650 rechargeable li-ion batteries and a USB smart charger with AC and DC adapter options, all offered with no additional shipping. We also stock a variety of accessories, such as red and green color filters, mounting hardware, remote pressure switches and holsters.
SMO Reflector Options: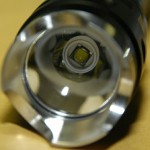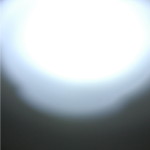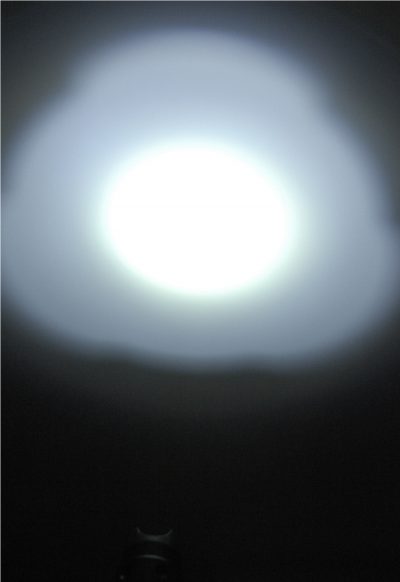 If you would like to upgrade your Victor U2 to maximize the throw distance of this magnificent emitter, we offer the option to upgrade your reflector to a highly polished SMO smooth reflector. The standard OP or "orange peel" reflector has a textured surface that acts to evenly disburse the light over a wider field, which makes the light have a bias towards flood or spill. As some users prefer their light to have a bias towards throw, which concentrates more of the beam towards the center, sending more of the light farther down field, we offer the option of upgrading your light's reflector to an SMO reflector.  Think of the difference as the choice of loading your home's light fixture with a spot light bulb vs. a flood light bulb. If you would want to maximize your light's throw potential through the use of an SMO reflector, just check the option box when ordering and either upgrade your standard OP reflector to the SMO reflector or include both OP and SMO reflectors.
Replacement Flush Black Bezel Option: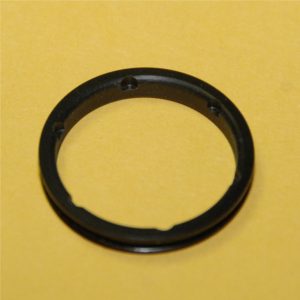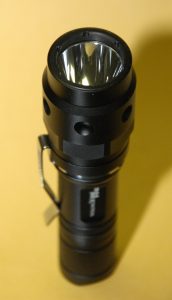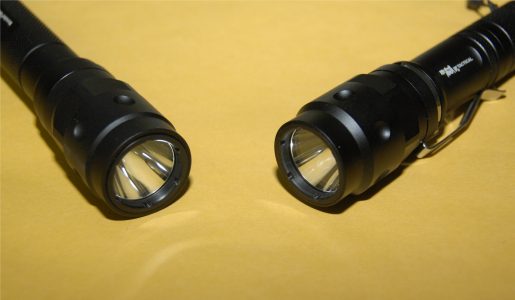 This optional Replacement Flush Black Bezel, which fits all MF Tactical Victor Series models, was designed as a substitute for the brushed aluminum crenelated attack bezel that is standard on every Victor Series flashlight.  Our Victor Series customers have told us that there can be times when the standard crenelated attack bezel is just a bit too aggressive or when keeping the light in a pocket can tear the pocket's fabric.  Also, for tactical uses a black bezel reflects back less light and is therefore far more stealthy.  So, for these reasons, we have custom manufactured and now offer this optional replacement flush bezel that allows for temporary or permanent replacement of the standard aluminum attack bezel.
To add the Replacement Flush Black Bezel to your Victor Series flashlight order, use the "Add Replacement Flush Black Bezel" check box at the top of this page before adding flashlight to your cart.  To order this part separately, just CLICK HERE.
Here are the specs for the Victor U2 EX:
| | |
| --- | --- |
| Emitter Brand/Type: | Cree |
| Emitter BIN: | XM-L2-U2 |
| Color BIN: | White |
| Total Emitters: | 1 |
| Battery Configuration: | Powered by 2x 18650 Protected battery ONLY (sold separately). Do NOT use CR123A or unprotected batteries. |
| Voltage Input: | 3.0~9.0V |
| Modes: | Single Mode |
| Switch Type: | Recessed Tactic Click with Momentary On |
| Switch Location: | Tail Cap |
| Mode Arrangement: | High Only |
| Operating Current: | 1.7 amps Output, Digitally Regulated |
| Brightness: | Emitter rated by Cree at 1100 lumens max |
| Max Runtime: | 4 hrs (approx.) with 3500mAh Ultra Capacity batteries |
| Max Range: | 130+ yards on high |
| Reflector: | Aluminum Textured/OP Reflector |
| Materials: | T6061 Aircraft Aluminum Alloy |
| Finish: | HA III Military Grade Hard Anodized |
| Lens: | Hardened ultra-clear mineral glass with anti-reflective coating. |
| Waterproof Standard: | IPX-7.  Protected against water penetration at depth up to 1 meter. |
| Carrying Strap: | Nylon Wrist Strap Included |
| Weight (w/o battery): | 7.7 oz |
| Length: | 8.88" |
| Tail Diameter: | 0.98" |
| Head Diameter: | 1.4"; 1.25″ at bezel |
| Diameter at Mounting Pt: | 0.97" |
Optional Tactical Accessories: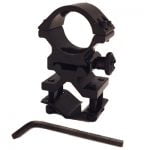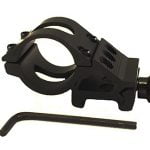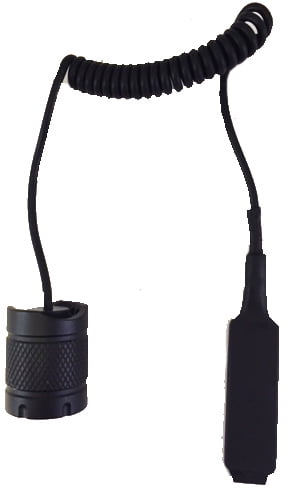 To order, use "Add Firearm Mount" or "Add Remote Pressure Switch" pull-down menu above.