Description
After a lengthy research and development process focused on making the most advanced MF Tactical tactical flashlight ever, we are extremely proud of our second generation 4-mode MF Tactical Stingray. Like all of our flashlights, the Stingray is built out of solid military grade aluminum and is waterproof to IPX-7 standards.  This professional grade tactical LED flashlight was designed and built in the USA to the highest quality standards to insure years of reliable service.  The Stingray runs on 3 high voltage rechargeable 18650 li-ion batteries (sold separately) that enable this beauty's 3 highly efficient Cree® XM-L T5 LED emitters to have the capability of an utterly astounding 2700 max lumens of pure white light. You also have the option of removing the 3rd battery tube and running your Stingray on just 2 batteries (with reduced runtime), which reduces your 13″ long flashlight to a more compact 10-1/2″ length if overall size is an issue.
During the design process of the MF Tactical Stingray, much of our engineering time was devoted to taking all of our experience and knowledge in building great tactical flashlights and designing the absolutely best switch for use on a high end flashlight such as the Stingray. Once you hold this flashlight in your hand and switch it on for the first time, you will agree that we have absolutely nailed it.  Inspired by the simple and intuitive switch found on the iPhone®, the new electronically actuated stainless steel switch on the Stingray is by far the finest we have ever designed and manufactured.  And function flows from design:  just press once to turn the light on high.  Then, simply hold down the switch to cycle through the medium and low modes and release when you have reached your desired mode. Switch to our blinding tactical instant access fast strobe mode from any other mode in an instant with a quick double-click of the button.  And since the Stingray has mode memory, it automatically returns to the last mode selected next time you turn it on.  It has by far the most useful and intuitive flashlight switch on the market anywhere (patent pending).
The 3 highly efficient Cree T5 emitters used on the Stingray are so efficient that we were able to engineer this flashlight to run for up to 3 hours on high on a full charge and an incredible 16 hours on low (using Ultra Capacity batteries). The thought and hard work that went into the MF Tactical Stingray has produced a tactical flashlight vastly superior to any competitor's product in this price range.  We challenge you to find any flashlight sold by any of our competitors for less than $300 that has even half the power, quality and attention to detail of the Stingray.  You will not find anything that comes close, because the Stingray gives you more of everything that a professional user or just a plain old enthusiast (i.e., "flashlight freak") wants without the $500+ price tag you might expect.

By integrating the anti-roll feature directly into the tail cap design, we were able to eliminate the need for a cumbersome protruding anti-roll ring. Plus, this sleeker design makes it easier to holster your MF Tactical Stingray in its accessory belt ring holster.  And what high end tactical flashlight would be complete without the protection and durability that you only get with hard military grade III annonization, which protects your professional grade light from wear and the elements. Finally, integrating an SMO or smooth reflector into the design of the Stingray ensures that you get both the benefit of a bright and tightly focused center beam combined with massive spill to light up wide areas in your path.
MF Tactical is a US company based in New Jersey that designs and builds high quality tactical LED flashlights that outperform and sell for less than inferior models offered by the larger flashlight manufacturers. Every MF Tactical flashlight comes with a full one year warranty (see Terms and Conditions for details) and the high level of personalized customer service that keeps our customers coming back year after year.
At only about 13″ in length and 1-1/2 lbs. in weight without batteries, the Stingray is an amazing powerhouse of a flashlight that will easily satisfy the needs of our devoted flashlight freak fans. The solid and incredibly well built flashlight body crowned with an aluminum "attack bezel" can serve as an effective tactial "deterrent" as well as an emergency glass breaker  Plus, by designing the bottom of the tail cap to be flat enough to "tail stand" the flashlight, your Stingray can also serve as a powerful room light in the event of a power outage.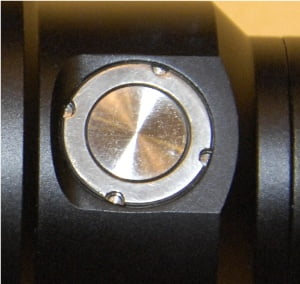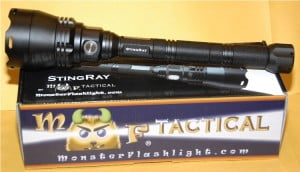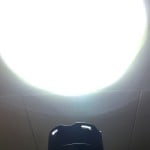 Here are the specs for the
MF

Tactical

 Stingray:
Brand:

MF

Tactical

Model:

Stingray


Emitter Brand/Type:

Cree

Emitter BIN:

XM-L-T5

Color BIN:

White

Total Emitters:

3

Battery Configurations:

Powered by 2x or 3x 18650 protected li-ion rechargeable batteries (sold separately).

Voltage Input:

5~21V

Switch Type:

Electronically Actuated Switch

Switch Location:

Side

Modes:

4 Modes Controlled by main button

Mode Memory:

Circuitry Features Mode Memory

Mode Arrangement:

High, Medium. Low and Direct Access Fast Strobe

Working Current:

2.6 amp Total Output, Digitally Regulated

Brightness on Various Modes:

2700 lumens max on high
1000 lumens max on medium
450 lumens max on low

Approx. Run Times per Charge:

2.6 hrs on high
3 hrs on medium
15.75 hrs on low


(All times are with three 3400mAh Ultra Capacity batteries)

Range:

 210+ yards

Water Resistance Standard:

IPX-7.  Protected against water penetration at depth up to 1 meter.

Materials:

 T6061 Aircraft Aluminum Alloy

Finish:

 HA III military Grade Hard Anodized

Lens:

Hardened ultra-clear mineral glass with anti-reflective coating.  Comes with spare lens in box.

Reflector:

Smooth Aluminum/SMO Reflector

Weight (w/o batteries):

1 lb, 8 oz

Length:

13.125" with 3rd battery tube; 10.375″ without

Diameter at head:

2.8"

Diameter at body:

1.0″

Diameter at mounting pt:

0.875"