Description
Among our very best high performance high energy flashlights from MF Tactical, this is the revised version of our ultra compact, MF Tactical Model R5-350-1C+, which is a very special and capable police/fire/EMS tactical CREE LED mini-flashlight.  The design challenge for the R5-350-1C+ was simple:  to create the absolute brightest possible flashlight in a body that is both small enough and light enough to use everyday as a keychain flashlight or as a tactical flashlight small enough to stow in your shirt pocket.   What good is it to own an amazingly bright flashlight unless you have it with you whenever the need may arise?  That's why the key design feature of the R5-350-1C+ was something as simple as downsizing.  Yes, MF Tactical makes bigger and heavier and brighter flashlights, but for its size and weight, the R5-350-1C+ represents the brightest ultra compact light of its quality currently on the market anywhere!  The R5-350-1C+ starts with the efficient R5 emitter by Cree and incorporates it into a compact and lightweight 4.02″ long anodized aircraft aluminum body with a high quality tail mounted on/off switch.
Q:  What's changed with the revised model?
A:   Our redesign has allowed us to increase the diameter of the reflector and extend the reflector depth by about 50%, resulting in significantly more reflector surface area without drastically changing the outer dimensions of the light.  We also now utilize a more power efficient main control board.  The result:  We have succeeded in getting even more light output from the R5 emitter while decreasing the light's power consumption by half.  As a result, the MF Tactical R5-350-1C+ is now noticeably brighter than the previous model and with twice the run time of its predecessor.  In addition, our increase in efficiency and redesign of the body of the light has enabled us to eliminate the heat accumulation issue that made the predecessor model hot to the touch after more than 5 minutes of continuous useage.  Now, use your brighter R5-350-1C+ as long as you like without worrying about heat.
The latest change to this model was the addition of the +, which signifies that this light now, in a pinch, will operate on a standard AA battery.  Although not as bright as when running a 14500 li-ion battery, this added feature lets you operate in a power outage situation with standard AA off-the-shelf batteries if you are unable to recharge your li-ion battery.
We have owned and designed a lot of flashlights in our day, but this is the single mode version of the tactical flashlight that Howard THE Flashlight Freak personally carries in his pocket every day because the R5-350-1C+ guarantees that you will always have the right tool with you at the unexpected moment that you will need it the most.  It is the most practical, convenient and usable flashlight we have yet to develop to date, and it just happens to be small enough to use as a key-chain that easily fits in your front pants pocket.
While the price shown for the flashlight is without batteries, just check the box marked "Select Battery/Charger Package" when you put this light in your shopping cart, and you can choose from several packages made up of one or two rechargeable li-ion 14500 batteries and/or a charger.  We also offer a custom ballistic nylon holster.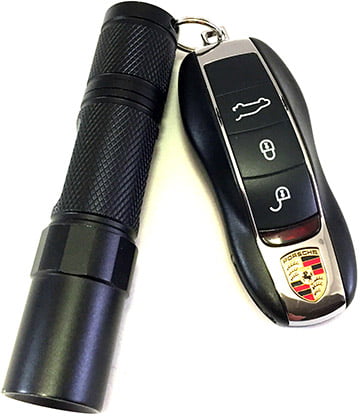 A lot of work went into the design and development of the R5-350-1C+ to make it brighter and able to run on a standard AA battery.  After kicking the tires on our newly redesigned flashlight, we were quite satisfied by the improved level of real life performance we were able to get out of this little 4″ powerhouse.  All MF Tactical models have one common design theme: Maximum Quality and Maximum Efficiency designed into the flashlight to achieve the highest possible REAL WORLD brightness and performance.  Each MF Tactical flashlight will vastly outperform its segment competitors through intelligent and efficient design.
Here are the specs:
Model:

MF

Tactical

 R5-350-1C+
Features:
XPE-WC-R5 LED emitter by Cree®
Battery:
Powered by 1 x 14500 battery (sold separately) or 1x AA battery (at 40% max brightness)
Voltage input range:
3.6~4.2V, 4.2V max
Modes:
Single mode tailcap clicky switch
Lumens:
350 lumens maximum brightness
Ouput:
500 mA working current output digitally regulated driver circuitry
Runtime:
Up to 1-1/2 hrs estimated run time per charge (with 800 mAh 14500 battery)
Material:
Anodized aircraft aluminum body.  Lens made of toughened ultra-clear mineral glass with anti-reflective coating.
Waterproof Standard:
IPX-7.  Protected against water penetration at depth up to 1 meter.
Dimensions:
4.02" (10.2 cm) long and 0.85" (2.2 cm) diameter
Weight (w/o battery):
2.00 oz (56.7 g)
Other:
Carrying Strap Included