Description
The biggest development in rechargeable tactical LED flashlights is not big, – it's Mini!  Introducing the MF Tactical Mini Monster.  The Mini Monster has the same phenomenal light output as its big brother, the 13-5/8″ long PowerStar, but in a body that is just 7-3/8″ long!  With its four Cree® XM-L2-U3 LED emitters that put out a total max output of 4800 lumens, the Mini Monster is the brightest and most compact super high output tactical LED flashlight on the market, and it can operate continuously on its 4800 lumen blindingly high mode for more than 3 hours using 4 MF Tactical Ultra Capacity 18650 li-ion batteries (batteries sold separately).
But the innovation does not end there:  You can charge Mini Monster's batteries internally using its built-in intelligent charging module that allows internal battery charging through its micro-USB port that is protected from dirt and water intrusion behind its watertight tail cap.  Mini Monster can be charged by simply plugging its USB cable into a wall outlet using the included high quality 3A AC adapter, or by plugging into any USB power source or automotive cigarette lighter outlet using the optional 12v DC car adapter. The Mini Monster is a five mode flashlight, with High, Medium, Low, SOS and Strobe tactical modes.  For users that need their flashlight to provide continuous operation for many hours, a spare set of batteries can be charged on an optional external charger so that a fully charged spare set of batteries are always available to be swapped out with the set in the flashlight.   The Mini Monster is also a Power Bank, which allows you to quickly and safely charge a cell phone or any other USB powered device from your flashlight's batteries using a standard USB cable.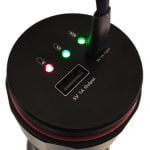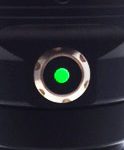 As any experienced user of a digital flashlight will tell you, one of the most useful features you can have on a flashlight is a real time power level indicator, and the Mini Monster has one built right into its switch.  The built-in color LED indicator on the switch displays a green light when your battery is full and remains green so long as your battery level is above 20%. When the battery drops below 20%, the light changes to red, and when the power is at 10% or lower, the red light begins flashing to let you know that it is time to recharge or swap in a fresh set of batteries.  As digital flashlights do not dim as the batteries get low in power, this innovative feature gives you the info you need to make sure you are never unexpectedly left in the dark.
Mini Monster is the brightest and most advanced premium LED flashlight ever made by MF Tactical.  While there are many low cost flashlights with false claims from China on the internet that may appear to be similar in appearance, rest assured that the Mini Monster is the real deal.  With a seriously heavy duty waterproof body made from the very best 6061-T6 aircraft aluminum alloy and finished with the highest Level HA III military grade hard anodization process, the Mini Monster is truly a work of art that will never be mistaken for a toy.  And with its smooth mirrorized aluminum reflector surface (SMO) that seamlessly synchronizes the beams from the four LED emitters into one obscenely bright beam, you can light up a football field with the Mini Monster.
Unlike the cheap imported flashlights on the market that claim to achieve extreme performance levels but instead end up overheating and underperforming, the Mini Monster's exceptional design provides it with high efficiency heat dissipation that enables it to operate at extremely high power and performance levels without ever becoming too hot to handle.
We know the simple fact that when you need your tactical flashlight to be in strobe mode, you need it in strobe NOW, not after completing a series of tedious button clicks.  For this reason, Mini Monster has MF Tactical's exclusive direct access fast strobe mode.  You can quickly and reliably activate strobe mode with a simple double-click of the button when the light is on in any other mode.  In addition, mode memory automatically remembers what mode you were last using, so the Mini Monster will also return to the last mode used each time you power it up.
The Mini Monster meets the IPX-8 standard for waterproofing, so its safe to use in the rain and under water at a depth up to 2 meters.  Unlike certain competitors that use  plastic lenses that turn cloudy and block a portion of a light's output, MF Tactical uses extra tough, ultra-clear mineral glass with an anti-reflective coating to insure a clear, crisp beam and optimal output at all times.  Plus we ship a spare lens with every Mini Monster (just in case of a mishap with your original lens).  Want to mount your Mini Monster?  Just attach any standard tripod to its built-in tripod mount, and your Mini Monster becomes a stationary light with the power of the sun.
The Mini Monster was built to run on four rechargeable 3.7V, 3.5A 18650 batteries with protection circuits.  While the price shown above for the flashlight is without batteries, just use the "Select Battery/Charger Package" option menu when you put this light in your cart, and you can choose a package made up of one or two sets (4 batteries per set) of our high quality 3.7v 3.5a rechargeable li-ion 18650 Extended or Ultra Capacity batteries and/or an XTar AC/DC/USB intelligent external charger with high tech LCD screen.
Shown with optional shoulder strap.

Shown with optional belt holster.

For easy carrying and ready access to your Mini Monster, add our optional top quality camera style shoulder strap or a custom ballistic nylon belt holster.

The Cree® brand U3 emitters in the Mini Monster are rated by their manufacturer to last 100,000 hours.  In addition, every MF Tactical flashlight sold on our web site comes with a one year warranty against manufacturing defects.  If your light should fail during that time, it will be repaired or replaced at our cost so long as it is not misused or abused.
Here are the specs:
Brand:

MF

Tactical

Model:
Mini Monster
Emitter Brand/Type:
Cree®
Emitter BIN:
XM-L2-U3
Color BIN:
Bright White
Material:
6061-T6 Aircraft Aluminum Alloy
Finish:
HA III Military grade hard anodized
Battery Configurations:
4 x 18650 protected rechargeable li-on batteries (sold separately) with 3.5A PCB.
Voltage Input:
14.8V
Switch Type:
Water Tight Electronic Switch with Direct Access Strobe.
Switch Location:
Top/Side
Modes:
5
Mode Arrangement:
Hi > Mid > Lo > SOS. Double click button for direct access fast strobe.
Maximum Operating Current:
6 Amps
Max Run Time per Charge w/4x 3400mAh Ultra Capacity 18650 batteries: 
Approx 3 hrs on high; 6 hrs on medium; 30 hrs on low.
Max Lumens at Brightness Settings
4800 lumens on high; 2400 lumens on medium; 480 lumens on low.
Maximum Range:
250+ yards
Power Bank:
USB Charge Port with 5V, 1A output
Waterproof Standard:
IPX-8.  Protected against water penetration at depth up to 2 meters.
Lens:
Hardened Ultra-Clear Mineral Glass with Anti-Reflective Coating
Reflector:
Aluminum Smooth Reflective Surface (SMO)
Weight (w/o batteries):
1 lb. 10.8 oz/760 grams
Length:
7.375 inches
Diameter at head:
2.8 inches
Handle Diameter:
2.25 inches