Description
Introducing the five mode version of our third generation 1300 lumen max MF Tactical Echo Series, our premium professional grade tactical LED workhorse.  Our latest model to use the bright and efficient Cree® XP-L HD V5 LED emitter, the Echo-5 is now 100 lumens brighter, 21% lighter and has 33% longer run time than its predecessor. Plus, for the first time, the Echo Series includes MF Tactical's color LED real time power monitoring system that displays your battery level and warns you when your battery is low.  Echo-5 also includes our thumb friendly recessed tail switch for easy one handed operation and "tail standing" for use as a portable room light.
The Echo-5 is waterproof and dust-proof to IPX-67 standards and includes our deep cut diamond knurling pattern on the flashlight body and tail cap for both a high quality feel and a slip-free grip in all weather conditions. An advanced and highly refined tail switch with improved tactile feel and intuitive single-handed operation makes the Echo feel like the indispensable tool it is from the first time it makes its home in your hand. Echo-5 also gets our redesigned removable Bi-Directional Pocket Clip that allows for "head in" or "head out" pocket or belt storage. Echo Series is built from extra thick, military grade level III anodized aluminum, and its hardened ultra-clear mineral glass lens is recessed deep in the heavy duty bezel to protect from drops or tactical mishaps.  The third generation Echo Series is as rugged as it is powerful, and it is built in the USA to last a lifetime.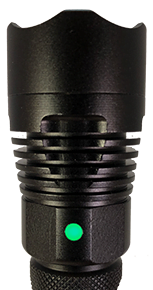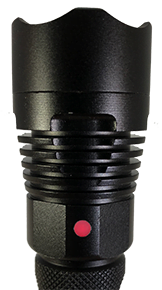 The new Echo Series borrows some of our newer tech from our Juno Series, such as our color LED battery level display that tells you your battery power level each time you turn it on.  The LED indicator will be solid green when your battery is between 80-100%, flashing green when the battery is between 30-80%, solid red when your battery level is between 15-30%, and flashing red when it has less than 15% charge. Other digital flashlights abruptly go dark when power gets low.  With the Echo Series, there is no more having to guess how much power you have left in your flashlight!
In addition to our extreme focus on quality, every new flashlight that we design and build incorporates a variety of enhancements and improvements, some obvious and some subtle. Echo-5 produces an exceptionally bright, white light, as opposed to the blue tint on lesser LED's.
If we had to sum up the Echo Series in just one word, that word would be "solid." There are an infinite number of "tactical" flashlights on the internet these days, but as our fellow flashlight freaks already know, MF Tactical is the real deal, and we design and build all our flashlights right here in New Jersey. The difference is quality, and MF Tactical takes pride in the fact that nobody beats us in producing the highest quality tactical LED flashlights in America, and we stand behind our quality with our one year warranty and legendary customer service.
Echo-5 runs on a single high voltage 18650 rechargeable protected li-ion battery (Do NOT use CR-123A's or unprotected batteries). While the price shown for the flashlight is without batteries, just use the menus marked "Battery Options" and "Charger Options" when you put this light in your cart, and you can choose from a variety of options with 1 or 2 of our top quality Extended or Ultra Capacity 18650 rechargeable li-ion batteries and your choice of USB smart charger with AC and DC adapter options, all offered with no additional shipping. We also stock a variety of essential accessories, such as weapon and bicycle mounts, remote pressure switches, color filters and a custom ballistic nylon holster.
Here are the specs:
Model:

MF

Tactical

Echo-5
Emitter Brand/Type:
Cree®
Emitter:
XP-L HD V5
Color:
White
Total Emitters:
1
Battery Configurations:
Powered by 1x 18650 Protected battery ONLY (sold separately).  Do NOT use CR123A or unprotected battery
Voltage Input:
3.7~4.2V
Switch Type:
Recessed Tactic Click
Switch Location:
Tail Cap
Modes:
5
Mode Arrangement:
High, Medium, Low, Extra Low and Fast Strobe
Operating Current:
3.5A Total Output, Digitally Regulated
Mode Memory:
Remembers and returns to last mode used (after 3 second memory set period)
Brightness:
1300 lm on high; 910 lm on medium; 520 lm on low; 130 lm on extra low
Runtime per charge:
Approx 4 hrs on high; 5.2 hrs on med; 8 hrs on low; 35 hrs on extra low (estimates with Ultra Capacity battery)
Range:
175+ yards
Waterproof Standard:
 IP-67, 1 meter for 30 mins (Waterproof & Submersible)
Materials:
T6061 Aircraft Aluminum Alloy
Finish:
HA III military Grade Hard Anodized
Lens:
Hardened ultra-clear mineral glass with anti-reflective coating.
Reflector:
Aluminum Textured/OP Reflector
Carrying Strap/Clip:
Both nylon wrist strap and removable bi-directional steel pocket clip included.
Weight (w/o battery):
4.4 ounces (w/o battery)
Length:
5.86"
Diameter at head:
1.425"
Diameter at body:
1.0"
Diameter at mounting pt:
15/16"
Optional Tactical Accessories: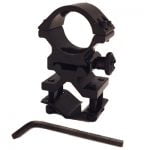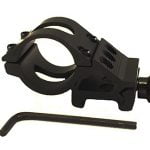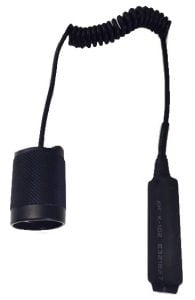 To order, check the "Add Remote Pressure Switch" and/or "Add Firearm Mount" box above.
SMO Reflector Options: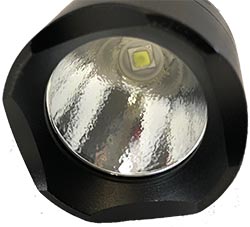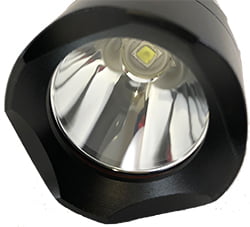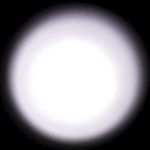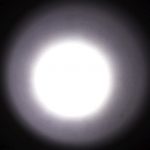 If you would like to upgrade your Echo-5 to maximize the throw distance of this magnificent emitter, we offer the option to upgrade your reflector to a highly polished SMO smooth reflector. The standard OP or "orange peel" reflector has a textured surface that acts to evenly disburse the light over a wider field, which makes the light have a bias towards flood or spill. As some users prefer their light to have a bias towards throw, which concentrates more of the beam towards the center, sending more of the light farther down field, we offer the option of upgrading your light's reflector to an SMO reflector.  Think of the difference as the choice of loading your home's light fixture with a spot light bulb vs. a flood light bulb. If you would want to maximize your light's throw potential through the use of an SMO reflector, just check the option box when ordering and either upgrade your standard OP reflector to the SMO reflector or include both OP and SMO reflectors.