Product Description
The MF Tactical Echo Series is the latest evolution of (and replacement for) our wildly popular and now retired T6-1000-3, our entry level model in the pro grade category.  The MF Tactical Echo-3 is the best choice for the user that wants a durable, all metal tactical flashlight constructed of aircraft grade aluminum that is brighter than anything else in its price range while still costing a fraction of the price of other quality flashlights built around the Cree XM-L2-U2 LED emitter.  The Echo-3 is a three mode flashlight with High, Low and High Speed Strobe modes.  Believe it or not, a flashlight can be "too bright," so the low mode lets you read without burning your retinas while at the same time more than quadrupling your battery run time.  The strobe mode is a potential life saving feature that can be used to blind a potential attacker or to signal help in the event you should become disabled or stranded.  As an added plus, the Echo-3 now has mode memory, which allows your flashlight to remember and return to the last mode used, eliminating the need to repeatedly change modes if you prefer to leave the light in low or strobe mode.
MF Tactical never stands still and is always researching and developing improvements to our already outstanding products.  The Echo-3 moves us forward by improving upon the performance and features of the T6-1000-3:  First and foremost, the Echo Series represents our first use of the Cree U2 emitter in a budget priced, compact and lightweight flashlight.  With a max rating of 1100 lumens, the U2 improves output by 10% over the T6.  In addition to being noticeably brighter, the Echo-3 features a redesigned internal switch structure that further improves performance and reliability.  Of course, we have retained the features that made this model line such a success, such as the glow-in-the-dark button cover, fast strobe mode and an integrated solid steel (removable) pocket/belt clip.  Just as MF Tactical customers expect from us, the Echo Series ratchets ups the bar on the brightness, features and design features offered on an entry level, compact high power tactical LED flashlight while delivering the high end performance and attention to detail build quality you can only get from the flashlight freaks at MF Tactical.
If you follow the development and evolution of LED's, you will know that MF Tactical was the first brand utilizing top-of-the-line Cree LED emitters to market nationally to fire departments, law enforcement and EMS services.  Until MF Tactical arrived on the scene with affordable high powered flashlights, police departments across the country were spending $200+ per unit to equip their officers with lights still did not approach the performance, capability and reliability of MF Tactical's Echo-3.  And, don't forget the tactical "attack crown" design of the bezel that allows you to use your light as your last line of defense* after you have blinded your adversary with strobe.  Thanks to MF Tactical's being run by a true flashlight freak dedicated to pushing out the envelope of what is possible in the world of tactical LED flashlights, now you can carry your own high quality U2 powered MF Tactical Echo-3 for a fraction of the competitors' price.
*For legitimate self defense only – we do not condone or promote violence of any type.
This light was built to run on a single high voltage 18650 rechargeable li-ion protected battery (Do NOT use CR-123A's). While the price shown for the flashlight is without batteries, just check the box marked "Select Battery/Charger Package" when you put this light in your cart, and you can choose from a variety of packages made up of one or two of our top quality rechargeable li-ion batteries and your choice of charger type, all offered with a package deal and with no additional shipping. We also stock a variety of accessories, such as red and green color filter lenses, mounting hardware, remote pressure switches and holsters.
While MF Tactical does sell more expensive models that can throw farther and wider than this, our entry level U2 light, you will not see anything close to this brightness level in such a compact and affordable body with this level of quality anywhere!  We always warn people about the inferior flashlights being sold on the internet and being shipped from Hong Kong or China.  Nowhere is the distinction between the cheap imitators and an MF Tactical flashlight more important than here, when you are dealing with the use of a high power emitter in a compact body.  If you do not properly manage the immense heat that must be safely dissipated, you get a flashlight that will either be literally "too hot to handle" or a device that will quickly burn itself out, leaving you with an expensive paperweight. MF Tactical, through advanced engineering, has perfected the use of lightweight heat-sinks and other components that naturally disburse the sworn enemy of electronics – HEAT!  As a result, the Echo-3 delivers the quality and performance that you expect from an MF Tactical flashlight with the extraordinary output you get from a state-of-the-art Cree U2 LED emitter.  The bottom line –>  Nowhere else will you get a better bang for the buck than with the Echo Series!
Here are the specs:
Model:

MF

Tactical

Echo-3
Emitter Brand/Type:
Cree
Emitter BIN:
XM-L2-U2
Color BIN:
SXO (White)
Total Emitters:
1
Battery Configurations:
Uses 1x 18650 protected (PCB) battery only (sold separately). DO NOT USE CR123As or unprotected 18650s.
Voltage Input:
3.6~4.2V
Switch Type:
Reverse Click
Switch Location:
Tail Cap
Modes:
3
Mode Arrangement:
Hi, Low, Strobe
Mode Memory:
Remembers and returns to last mode used (after 5 second memory set period)
Circuitry:
2800mA Total Current Output, Digitally Regulated
Max Lumen Rating:
1100 lumens (Rated by Cree)
Runtime:
Approx. 2.6 hrs. on High; Approx. 10.5 hrs. on Low (with 3400mAh Ultra Capacity battery)
Lens:
Strengthened Coated Mineral Glass Lens
Reflector:
Aluminum Textured/OP Reflector
Waterproof Standard:
IPX-7.  Protected against water penetration at depth up to 1 meter.
Carrying Strap/Clip:
Both nylon wrist strap and removable steel pocket clip included.
Weight (w/o battery):
4.2 ounces (w/o battery)
Length:
5-5/8"
Tail Diameter:
1"
Head Diameter:
1-5/16"
Diameter at Mounting Point:
7/8"
TO CHANGE MODES:  Turn on with a full press of the button (CLICK), then cycle through modes with a half press of button (NO CLICK).
MEMORY FEATURE:  Leave in any mode for about 4 seconds to allow circuitry to learn mode.  Then turn off and wait 4 additional seconds for memory to set. The light then remembers and returns to your last setting when turned back on.
Optional Tactical Accessories: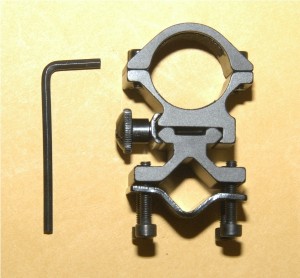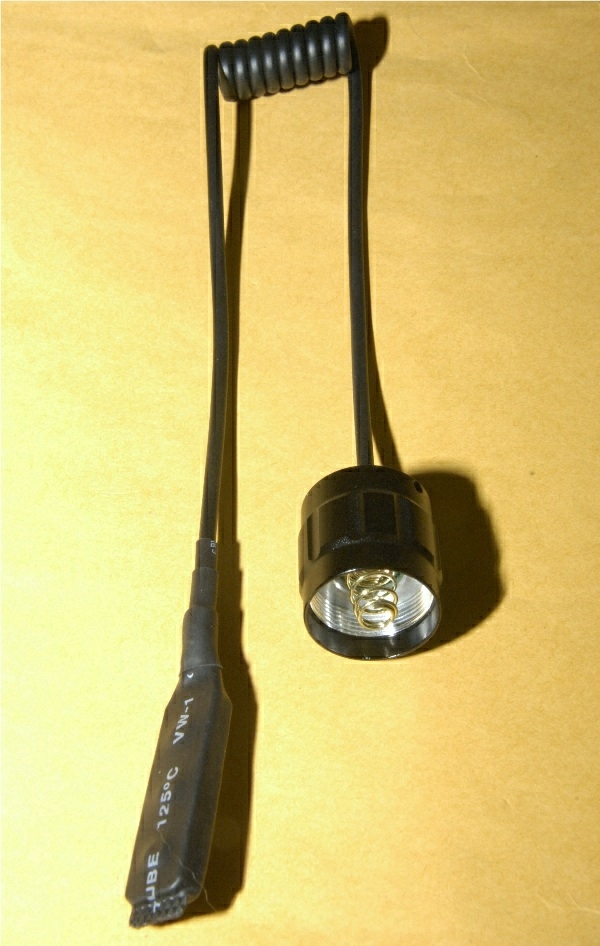 To order, check the "Add Remote Pressure Switch" and/or "Add Firearm Mount" box above.
SMO Reflector Options: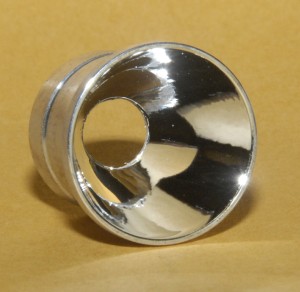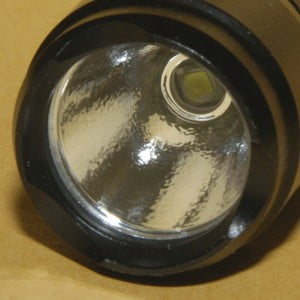 If you would like to upgrade your Echo-3 to maximize the throw distance of this magnificent emitter, we offer the option to upgrade your reflector to a highly polished SMO smooth reflector. The standard OP or "orange peel" reflector has a textured surface that acts to evenly disburse the light over a wider field, which makes the light have a bias towards flood or spill. As some users prefer their light to have a bias towards throw, which concentrates more of the beam towards the center, sending more of the light farther down field, we offer the option of upgrading your light's reflector to an SMO reflector.  Think of the difference as the choice of loading your home's light fixture with a spot light bulb vs. a flood light bulb. If you would want to maximize your light's throw potential through the use of an SMO reflector, just check the option box when ordering and either upgrade your standard OP reflector to the SMO reflector or include both OP and SMO reflectors.