Description
The fan favorite Delta Series recently underwent a complete upgrade.  The second generation 1300 lumen max MF Tactical Delta-5 is now a ½ inch smaller, 12% lighter, 20% brighter and far more versatile with a new tail cap side mounted electronic tac switch and a powerful magnetic base. Built with the advanced and efficient Cree® XP-L HD V5 LED emitter, the Delta-5 gets a nice bump up in both brightness and run time.  We are truly amazed and pleased that advances in technology now make it possible for us to build a 5-½" long flashlight that puts out 1300 lumens max with a runtime of 4 hours on high on a single Ultra Capacity 3500mAh rechargeable battery.
In addition to a new removable pocket clip, the Delta-5 also gets the benefit of several other advances after listening to our customer's requests: Delta-5 is our first light to include a powerful rare earth magnet in its base that allows you to securely stick the Delta-5 on any steel or iron surface for hands free operation.  In addition, we have adapted the same high tech electronically activated tac switch from our high end lights and conveniently mounted the switch on the side of the tail cap. The Delta has 4 brightness modes (high, medium, low and extra low) plus our exclusive direct access fast strobe mode, which allows you to get to strobe immediately by a simple double-click of the tac switch.  This is a valuable feature because when you need strobe, you usually need it NOW! Like all MF Tactical multi-mode flashlights, the Delta-5 has flash memory circuitry, so when you turn it off and back on it returns to the same mode you were last using.  Memory gives you a huge advantage because you do not have to cycle through all of its modes every time you turn it on like with lesser flashlights made by other companies.
The bottom of the tail cap on the Delta-5 is completely flat, giving the light the capability of standing on its tail. This "tail stand" feature allows you to place the light on a table and bounce its beam off the ceiling, thereby enabling the Delta-5 to be used as a table lamp bright enough to light up an entire room. If you have ever lived through a power outage, you will know the advantage of this feature. The much requested magnetic base allows you to stick the light onto your car hood, overhead pipe or any other metal surface so that you can use the light with both hands free.
The Delta-5 runs on a single high voltage 18650 rechargeable protected or ECO Cell Certified li-ion battery (Do NOT use CR-123A's batteries). While the price shown for the flashlight is without batteries, just use the menus marked "Battery Options" and "Charger Options" when you put this light in your cart, and you can choose from a variety of options with 1 or 2 of our top quality Extended or Ultra Capacity 18650 rechargeable li-ion batteries and your choice of USB smart charger with AC and DC adapter options, all offered with no additional shipping. We also stock a variety of accessories, such as mounting hardware and a custom designed ballistic nylon belt holster.
SMO Reflector Options: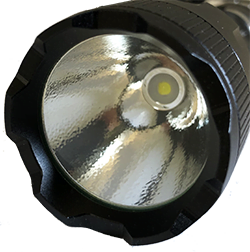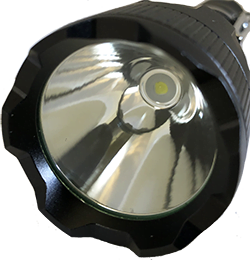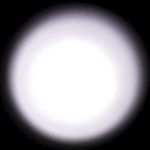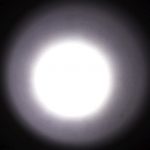 If you would like to upgrade your Delta-5 to maximize the throw distance of this magnificent emitter, we offer the option to upgrade your reflector to a highly polished SMO smooth reflector. The standard OP or "orange peel" reflector has a textured surface that acts to evenly disburse the light over a wider field, which makes the light have a bias towards flood or spill. As some users prefer their light to have a bias towards throw, which concentrates more of the beam towards the center, sending more of the light farther down field, we offer the option of upgrading your light's reflector to an SMO reflector.  Think of the difference as the choice of loading your home's light fixture with a spot light bulb vs. a flood light bulb. If you would want to maximize your light's throw potential through the use of an SMO reflector, just check the option box when ordering and either upgrade your standard OP reflector to the SMO reflector or include both OP and SMO reflectors.
Here are the specs for the Delta-5:
Brand:

MF

Tactical

Model:
Delta-5
Emitter Brand/Type:
Cree® XP-L HD V5
Color BIN:
White
Total Emitters:
1
Battery Requirement:
18650 Protected or or ECO Cell Certified batteries – Do NOT use CR123A batts
Voltage Input:
3.6~4.2V
Switch Location/Type:
Tail-cap Side Mounted Electronically Actuated Tac Switch
Modes:
5
Mode Memory:
Circuitry Features Mode Memory
Mode Arrangement:
Hi, Med, Low, Extra Low plus direct access Fast Strobe
Working Current:
3000mA Total Output, Digitally Regulated
Brightness:
1300 lms high, 910 lms med, 520 lms low, 130 lms extra low and 1300 lms strobe
Run Time per Charge:
Approx 4 hrs high; 5.75 hrs med; 13 hrs low; 40 hrs. extra low (w/3500mAh bat)
Range:
200 yards
Waterproof Standard:
IPX-7.  Protected against water penetration at depth up to 1 meter.
Materials:
Anodized aircraft aluminum body.
Finish:
HA III military Grade Hard Anodized
Lens:
Hardened ultra-clear mineral glass with anti-reflective coating.
Reflector:
Aluminum Textured/OP Reflector
Carrying Strap:
Deluxe detachable nylon wrist strap included
Weight (w/o battery):
5.1 oz
Length:
5-9/16"
Diameter at head:
1-5/8"
Diameter at body:
1.0″
Diameter at mounting pt:
7/8"
TO CHANGE MODES:  Turn on with a press of the button, then press button again and hold to cycle through modes.  Release when you get to the desired mode.  Double click once to go directly to fast strobe.  Double click again takes you back to high mode.
Optional Tactical Accessories: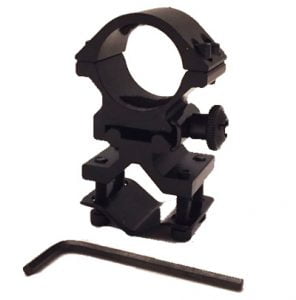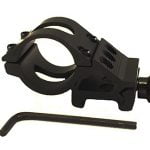 To order, check "Add Mount" box above.