Description
The Pro T6-1000-4 has evolved into the MF Tactical Delta-4 tactical LED flashlight.  All of the features that made the Pro T6-1000-4 an utter masterpiece of design, technology and American ingenuity (if we don't say so ourselves) continue with the new Delta-4:  The Delta-4 still has an incredible output to size ratio and is one of the brightest sub-6″ long flashlights you will find anywhere.  Unlike many of our competitors who are committed to producing a huge number of units even in the face of aging technology (no, we are not making fun of MagLite – ok, we are!!), we believe in constantly innovating and adopting newer technology as soon as possible.  As a result of continually listening to the feedback from our users, we introduce our next generation premier professional grade tactical workhorse:  the Delta-4.
First and foremost, we have upgraded the LED emitter to Cree's whiter and brighter 1100 lumen max XM-L2-U2 LED emitter.  You may not have thought it was possible to improve upon the incredible output of the Pro T6-1000-4, but that is precisely what we have done.  In addition to being 10% brighter than its successor, the Delta-4 also uses our latest high quality switch design, insuring both tactical precision and a lifetime of reliable performance.
The Delta-4 has a total of four tactical modes.  When you activate its tail mounted button for the first time, the Delta-4 starts on full bright mode. Then, with a soft press of the button, it cycles through its other 3 modes, which are a mid-bright setting for when bright is blinding you (like reading at night), a battery saving low mode, which extends the run time of a battery charge to an unbelievable 8 hours, and a fast strobe mode that will disorient and blind any aggressor at night.  Most importantly, the MF Tactical Delta-4 has flash memory circuitry, so when you turn it back on it returns to the same mode you were using at the time you last switched it off.  Memory gives you a huge advantage because you do not have to cycle through all 4 modes at a time when you may be concerned about more pressing matters.
The key feature of this light, and what differentiates it from our lower cost U2 models, is the extra deep and extra wide 1-3/4″ reflector dish, which gives this light an extremely useful beam that still has sufficient throw power to place a beam on a license place from more than 50 yards.  And the tactical "attack crown" design of the bezel allows you to "reason with" your attacker* after you have blinded him.  On an MVA call (car crash) at night, this light can easily light up the entire accident scene with bright white light – far better than those Mag toys the firemen bring to the scene!  This light achieves its mission of being an incredibly capable and bright wide beam light that meets or exceeds the fit and quality of lights costing six times as much.  THIS IS AN INCREDIBLY BRIGHT FLASHLIGHT IN A LIGHT/COMPACT SUB-6″ BODY.  Compared to the now ancient looking MagLite LED that took 3 D-cell batteries, this anodized aircraft aluminum bodied flashlight puts out more than 10x as much light as the brightest MagLite that weighs a ton.
* For legitimate self defense only – We do not condone or promote violence of any type.
The switch on the Delta-4 is flush mounted and fully recessed into the tail cap, giving the light the capability of standing on its tail, permitting it to be used to bounce its beam off the ceiling when you place it on a flat surface, thereby enabling the Delta-4 to be used as a table lamp bright enough to light up an entire room.
The Delta-4 was built to run on a single high voltage 18650 rechargeable protected li-ion battery (Do NOT use CR-123A's or any unprotected batteries).  While the price shown for the flashlight is without batteries, just check the box marked "Select Battery/Charger Package" when you put this light in your cart, and you can choose from a variety of packages made up of one or two of our top quality MF Tactical extended capacity rechargeable li-ion batteries and your choice of charger type, all offered with a package deal and with no additional shipping. We also stock a variety of accessories, such as mounting hardware, remote pressure switches and a custom designed, ballistic nylon belt holster.
Since MF Tactical was founded by an openly neurotic flashlight freak who runs the shop with a whip, orders are usually packed and shipped w/in one business day.  As our growing list of customers already know, MF Tactical combines the best of the best products and features at the best possible prices with excellent and caring customer service.  Our newer customers always ask us: "Why are your prices so low?" And, what's our response?:  Why are the competitors charging so much!! Every day, an MF Tactical is the reason behind the early retirement of a Streamlight or Surefire that costs more to purchase and operate yet does not come close to the performance and output of an MF Tactical.
SMO Reflector Options: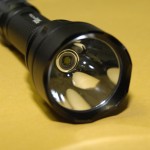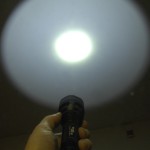 If you would like to upgrade your Delta-4 to maximize the throw distance of this magnificent emitter, we offer the option to upgrade your reflector to a highly polished SMO smooth reflector. The standard OP or "orange peel" reflector has a textured surface that acts to evenly disburse the light over a wider field, which makes the light have a bias towards flood or spill. As some users prefer their light to have a bias towards throw, which concentrates more of the beam towards the center, sending more of the light farther down field, we offer the option of upgrading your light's reflector to an SMO reflector.  Think of the difference as the choice of loading your home's light fixture with a spot light bulb vs. a flood light bulb. If you would want to maximize your light's throw potential through the use of an SMO reflector, just check the option box when ordering and either upgrade your standard OP reflector to the SMO reflector or include both OP and SMO reflectors.
Here are the specs for the Delta-4:
Brand:

MF

Tactical

Model:
Delta-4
Emitter Brand/Type:
Cree XM-L2-U2
Color BIN:
White
Total Emitters:
1
Battery Configurations:
Powered by 1x 18650 Protected battery ONLY (sold separately).  Do NOT use CR123A or any unprotected battery.
Voltage Input:
3.6~4.2V
Switch Location/Type:
Tail-cap Mounted Reverse Tactic Click Switch
Modes:
4
Mode Memory:
Circuitry Features Mode Memory
Mode Arrangement:
Hi, Mid, Low, Fast Strobe
Working Current:
2800mA Total Output, Digitally Regulated
Brightness:
1100 lumens maximum brightness.
Run Time per Charge:
Approx 2.6 hrs on high; 5.2 hrs on med; 10.4 hrs on low. (estimates are with 3400mAh Ultra Capacity battery)
Range:
130 yards
Waterproof Standard:
IPX-7.  Protected against water penetration at depth up to 1 meter.
Materials:
Anodized aircraft aluminum body.
Finish:
HA III military Grade Hard Anodized
Lens:
Hardened ultra-clear mineral glass with anti-reflective coating.
Reflector:
Aluminum Textured/OP Reflector
Carrying Strap:
Nylon Wrist Strap Included
Weight (w/o battery):
6.2 oz
Length:
5-3/4"
Diameter at head:
1-3/4"
Diameter at body:
1.0″
Diameter at mounting pt:
15/16"
TO CHANGE MODES:  Turn on with a full press of the button (CLICK), then cycle through modes with a half press of button (NO CLICK).
MEMORY FEATURE:  Leave in any mode for about 4 seconds to allow circuitry to learn mode.  Then turn off and wait 4 additional seconds for memory to set. The light then remembers and returns to your last setting when turned back on.
Optional Tactical Accessories: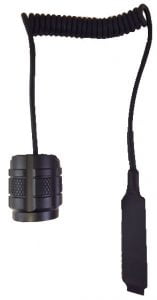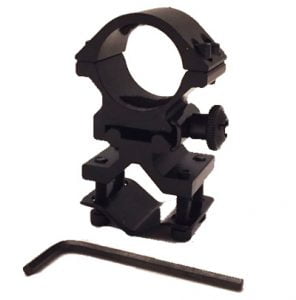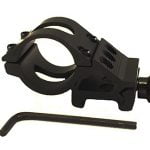 To order, check "Add Remote Pressure Switch" and/or "Add Firearm Mount" box above.