Description
MF Tactical Bravo Series is the end result of MF Tactical's comprehensive design project to reinvent the low cost, compact and efficient rechargeable tactical LED flashlight category.  By basing the Bravo Series on the American made, highly efficient and reasonably priced Cree® XM-L T5 LED emitter, we were able to design and build an absolutely bulletproof flashlight that is bright as hell and made to hold up to a lifetime of demanding use.  Plus, our deep diamond knurling pattern insures that the Bravo will stay securely within your grip no matter how wet and slippery the environment becomes.
Bravo Series has all of the upgraded design elements normally found only in our Pro Grade flashlights: heavy gauge shock resistant aircraft grade aluminum with an HA II military grade hard anodized finish, an upgraded precision heavy duty switch mechanism and a lens made from hardened ultra-clear mineral glass with anti-reflective coating.  By building this incredibly high quality flashlight body around the cost effective Cree T5 LED, we are able to offer the 900 max lumen Bravo-5 at the lowest price ever for a multi-mode MF Tactical Pro Grade LED flashlight.
Bravo-5  is the multi-mode Bravo Series flashlight, and it has high, medium, low, fast strobe and SOS modes with memory circuitry to remember and return to the mode you used last. Bravo-5 gives you everything you need (and nothing you don't need) in a well built, compact 6″ long tactical flashlight.  But unlike all of the Chinese competitors out there on the internet, the Bravo gives you our best feature of all:  MF Tactical design, workmanship and quality.  The first thing you will notice when you pick up a Bravo-5 is the feeling of security you get from having such a well made and finely crafted precision tool in the palm of your hand.
Bravo Series is America's answer to the onslaught of cheap Chinese flashlights that have flooded the market. Like all MF Tactical flashlights, Bravo is built with an aluminum reflector, which is an integral part of a quality, high power flashlight. Generic Chinese flashlights being sold as "US Navy Seals" tactical flashlights all have cheap plastic lenses instead of a metal reflector, and as a result they are cheaper to manufacture but far less bright. Without a reflector, these low grade "focusing" flashlights don't actually focus any light, but merely create an optical illusion by masking out the outside of the beam. Don't be fooled by the bogus performance claims and snake oil sales tactics of the Chinese companies pretending to be American military suppliers offering surplus flashlights to the public. Bravo is the real deal, and MF Tactical gives you quality and value for your dollar, not a cheap disposable flashlight.
This light was built to run on a single high voltage 18650 rechargeable li-ion protected battery (Do NOT use CR-123A's or any unprotected battery). While the price shown for the flashlight is without batteries, just use the "Battery Options" and "Charger Options" menus when you put this light in your cart, and you can choose from a variety of options with one or two of our top quality rechargeable li-ion batteries and your choice of charger, all offered with no additional shipping. We also stock a variety of accessories, such as red and green color filters, mounting hardware, remote pressure switches and holsters.
Here are the specs:
Brand:

MF

Tactical

Model:
Bravo-5
Emitter Brand/Type:
Cree XM-L T5
Color BIN:
White
Total Emitters:
1
Battery:
Powered by 1 x Protected 18650 rechargeable li-ion battery ONLY (sold separately).   Do NOT use CR123A or unprotected 18650
Voltage Input:
3.6~4.2v
Modes:
5
Mode Arrangement:
High, Med, Low, Fast Strobe, SOS
Mode Memory
Memory Mode Circuitry – Learns and Returns to Last Mode Used
Switch Location/Type:
Tail-cap Mounted Reverse Tactic Click Switch
Brightness:
900 lumens max on high; 450 lumens max on med; 135 lumens max on low
Operating Current:
1.2A, Digitally Regulated
Runtime per Charge:
Approx 3.25 hrs on high; 6.5 hrs on med; 21.7 hrs on low. (Using 3400mAh Ultra Capacity battery)
Materials:
Anodized aircraft aluminum body.
Lens:
Hardened ultra-clear mineral glass with anti-reflective coating.
Range:
125 yards
Waterproof Standard:
IPX-7.  Protected against water penetration at depth up to 1 meter.
Finish:
HA II Military Grade Hard Anodized
Carrying Strap:
Nylon Wrist Strap Included
Weight (w/o battery):
5.2 oz
Length:
6"
Body Diameter:
1"
Head Diameter:
1.34"
Diameter at Mounting Point:
1"
TO CHANGE MODES:  Turn on with a full press of the button (CLICK), then cycle through modes with a half press of button (NO CLICK).
MEMORY FEATURE:  Leave in any mode for about 4 seconds to allow circuitry to learn mode.  Then turn off and wait 4 additional seconds for memory to set. The light then remembers and returns to your last setting when turned back on.
Optional Tactical Accessories: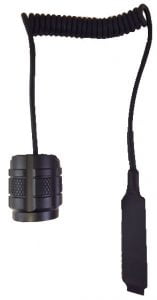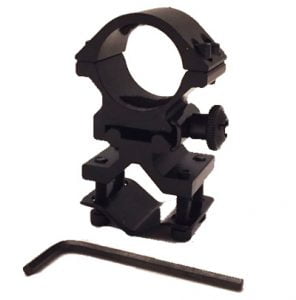 To order, check "Add Remote Pressure Switch" and/or "Add Firearm Mount" box above.
SMO Reflector Options: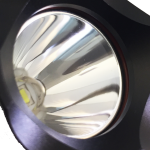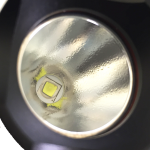 If you would like to upgrade your Bravo-5 to maximize the throw distance of your flashlight, we offer the option to upgrade your reflector to a highly polished SMO smooth reflector. The standard OP or "orange peel" reflector has a textured surface that acts to evenly disburse the light over a wider field, which makes the light have a bias towards flood or spill. As some users prefer their light to have a bias towards throw, which concentrates more of the beam towards the center, sending more of the light farther down field, we offer the option of upgrading your light's reflector to an SMO reflector.  Think of the difference as the choice of loading your home's light fixture with a spot light bulb vs. a flood light bulb. If you would want to maximize your light's throw potential through the use of an SMO reflector, just check the option box when ordering and either upgrade your standard OP reflector to the SMO reflector or include both OP and SMO reflectors.